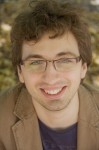 Email

gereon.kremer at cs.rwth-aachen.de

Phone

+49 241 80 21243

Address

Room 4228
Ahornstraße 55
D-52074 Aachen
Research Interests
SMT solving
Nonlinear real arithmetic
Cylindrical Algebraic Decomposition
Integer arithmetic
Teaching
Publications
Selected Talks
2017
Gereon Kremer. Comparing Different Projection Operators in the Cylindrical Algebraic Decomposition for SMT Solving, Talk at the 2nd International Workshop on Satisfiability Checking and Symbolic Computation, 29th July 2017, Kaiserslautern, Germany, 2017.
2016
Gereon Kremer. A Generalised Branch-and-Bound Approach and Its Application in SAT Modulo Nonlinear Integer Arithmetic, Conference Presentation at 18th Int. Workshop on Computer Algebra in Scientific Computing (CASC'16), Bucharest, Romania, 2016.
2015
Florian Corzilius, Gereon Kremer. SMT-RAT: An Open Source C++ Toolbox for Strategic and Parallel SMT Solving, Talk at Symbolic Computation and Satisfiability Checking (Dagstuhl Seminar 15471), 2015.
2014
Gereon Kremer. Using Cylindrical Algebraic Decomposition in Satisfiability Modulo Theories, Talk at 8th Joint Workshop of the German Research Training Groups in Computer Science, 2014.
Gereon Kremer, Sebastian Junges. Satisfiability Modulo Real Arithmetic - SMT-Solving with CAD and Gröbner Bases, Talk at Joint Workshop of Research Training Groups PUMA and AlgoSyn, 2014.